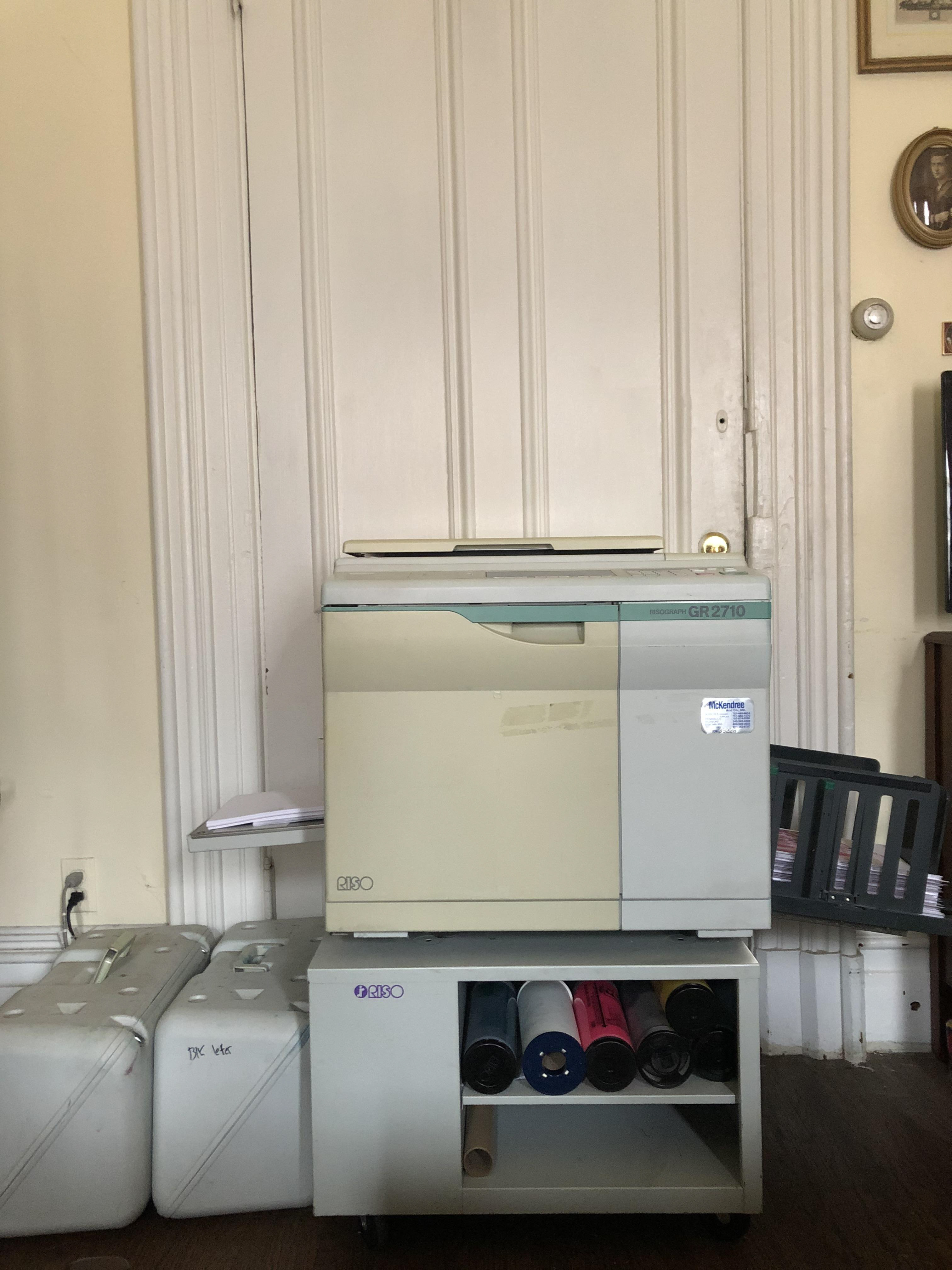 Currently we offer printing with our
RISOGRAPH GR2710
, and can do black & white laser printing as well. Soon we hope to also offer printing with our DITTO machine. 
Nothing fancy, think typical black toner on a page. The printer is a Brother HL-2270DW. She was the cheapest printer that could do two sided printing. If you are looking to get into zine making yourself and are going to print a lot, we'd suggest getting one yourself. But sometimes it's nice to just have someone else do the work for you, and we'd be happy to print for you this way : )
Think of the Risograph as a silk screen machine. Each color of ink comes with its own drum, which is essentially silk screen rolled into a tube. The Risograph then forces ink through an stencil burned onto wax paper that is rolled onto this tube and then onto the paper coming through. The wet ink needs some time to dry and in some cases never fully dries (think the ink that vaguely smears in the newspaper) but has a slightly raised and very concentrated look. 
All types of imagery works with the Risograph, but my favorite kind of images are line drawings, because the ink winds up making it look like they were drawn by pen. The Risograph is also very good at layering ink since they are all vaguely transparent. We have the capacity to do a rough CMYK style approximation but still need to figure out the settings a bit. ​​​​​​​
We can print an image up to 8.5x14 in size, but can also print 11x17 zines (folded in half with letter size pages, but there will be a bit of margin on both sides. We will have templates for this available soon.
Email print@misfeedpress.com for a quote
Below are the colors we have currently, and we are hoping to find more drums so we can offer more. Metallic gold and red are currently on the top of our wishlist.